Cabinets are a large focal point of every kitchen. And the door style you choose for your cabinets can create a big impact on the rest of your kitchen decor. Take a look at 8 popular cabinet door styles in today's kitchens.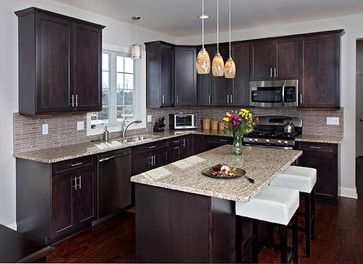 Shaker Cabinet Style
The Shaker-style cabinet door is the most common door style in kitchens today. This five-piece flat-panel style has a frame made from four pieces and a single flat center panel for the fifth piece.
Shaker gets its name from the distinctive Shaker furniture style, which uses simple, clean lines and emphasizes utility. Shaker-style doors became popular because their simple style lends itself to just about any decor — from contemporary to traditional — with variations in wood species, stains, paint colors and hardware. This classic style can work with a variety of budgets, depending on the wood used.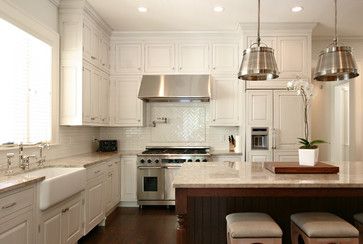 Inset Cabinet Style
Although this style tends to be one of the most expensive on the market, it's a classic look that'll last for generations. The inset door gets its name because it is set inside of the cabinet frame — typical cabinet doors rest on the outside of the frame. The door is designed and constructed with extremely precise measurements so that it nests inside the frame and opens and closes properly, even when the wood expands and contracts.
This door style usually requires exposed hinges rather than the typical concealed hinges of other door styles that are included in the cost of the cabinet box.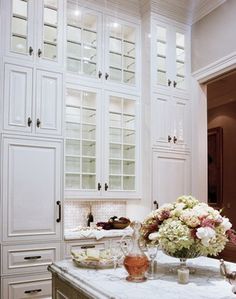 Raised Panel Style
Raised panel doors offer an added dimension to your cabinetry design. Center panels are created with a variety of profiles, from stylishly simple to quite complex. These doors work well in a more formal or traditional setting, and are an excellent choice if you would like the cabinetry to be a focal point of the room.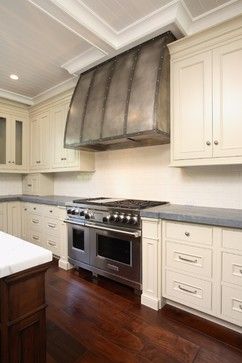 Flat Panel Cabinet Style
This door style allows for a clean look with minimal detailing on the door. This can also be paired up with inset styling to allow some character in your room, but not overwhelming. Flat panel has become more popular in painted cabinetry and can serve as a clean template.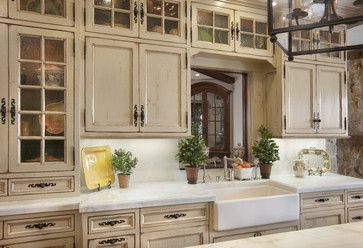 Distressed Cabinet Door Style
If you've always dreamed of having an antique-style kitchen, then you'll love the distressed-looking cabinets available from most manufacturers. Choose any door style and opt to have the corners rubbed off or have other distressing techniques done for that age-old feeling. All this extra work will cost you, though; there's usually a 15 to 20 percent up-charge for a trades-person to actually destroy your brand-new doors.
Thermofoil Cabinet Door Style
These doors are molded out of MDF (medium-density fiberboard), wrapped in a plastic-type coating and then baked under intense heat to create an impervious seal. Durable and cost effective, they come only in solid colors and imitation wood grain.
Often mass-produced, thermofoil cabinetry comes at very competitive price points. It's durable, but it's also extremely difficult to repair any damage to it. Some lighter colors can also yellow from sunlight and heat over time.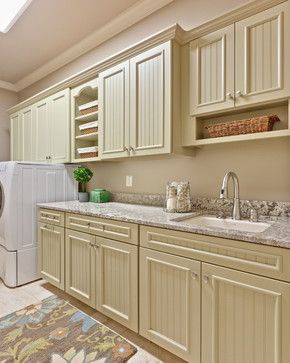 Beaded Style
Love cottage style? It doesn't get more cottage chic than beadboard. The center panel of the cabinet doors in this style are made to look like traditional beadboard paneling. Beadboard was used in the past as a decorative wall treatment before plaster, drywall and paint became common.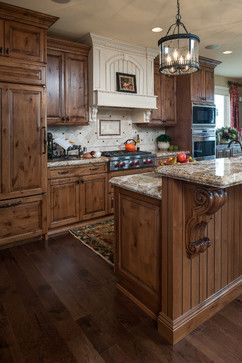 Custom Style
Create a door style that suits your taste and also allows you to transform a room into your own. This means ordering cabinetry from one of our custom lines in order to get the look you want.
For more kitchen remodel inspiration visit our MJ Cabinet Designs Project Portfolio. We have 25 years experience creating custom remodeling solutions featuring the most up to date styles and design trends.