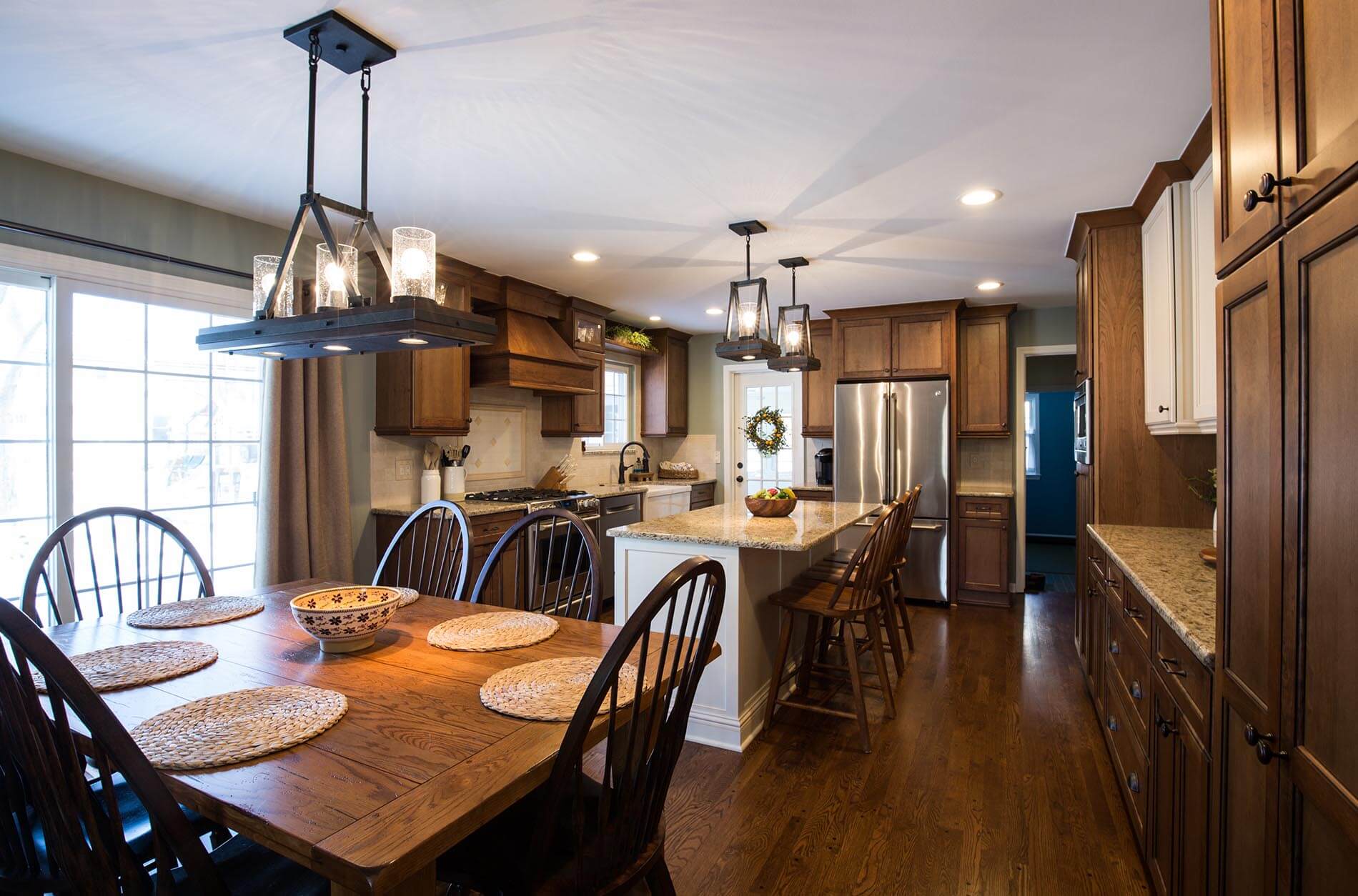 Mission Statement
MJ Cabinet Designs is a family owned company that is dedicated to satisfying the needs and desires of our clients. We strive to serve our clients by making the complex remodeling process a stress-free and simple experience. Our continued business success comes from the genuine relationships we form with our clients.
At a Glance
MJ Cabinet Designs is located in Plymouth, Michigan. We provide quality cabinets and products from top manufacturers, along with kitchen and bath design, and remodeling services in Plymouth, Canton, Northville and throughout our local Metro Detroit market.
More Than 25 Years of Experience
Owner Michael Jenkins has worked in the cabinetry industry for more than 25 years. Fulfilling his dream of becoming an entrepreneur, Mike opened MJ Cabinet Designs in 2009. The company got its start working with local builders helping them create luxury custom kitchens and baths for our clients.
"Our building trade partnerships are still important to us. We've worked hard to develop them and work hard to maintain them," Mike explains.
"Looking to offer more to our retail customers, our services have grown to include start-to-finish kitchen and bath remodeling services available directly to homeowners," he continues.
Family Values
MJ Cabinet Designs is a two-generation family run business, with family members each playing an important role in our team. We also consider our staff and installation crew an integral part of the MJ Cabinet Designs family.
Each of our employees upholds our values and acts with integrity, courtesy and professionalism on each and every project.
MJ Cabinet Designs: Our Commitment to You
Planning a kitchen or bath makeover can be exciting and the results can be enjoyed for years to come. At MJ Cabinet Designs we are committed to making sure the process goes as smoothly as possible, that we minimize disruptions to your lifestyle, that you'll love your new kitchen, bath or other custom cabinet project and – most importantly – that you'll be 100% satisfied with our work.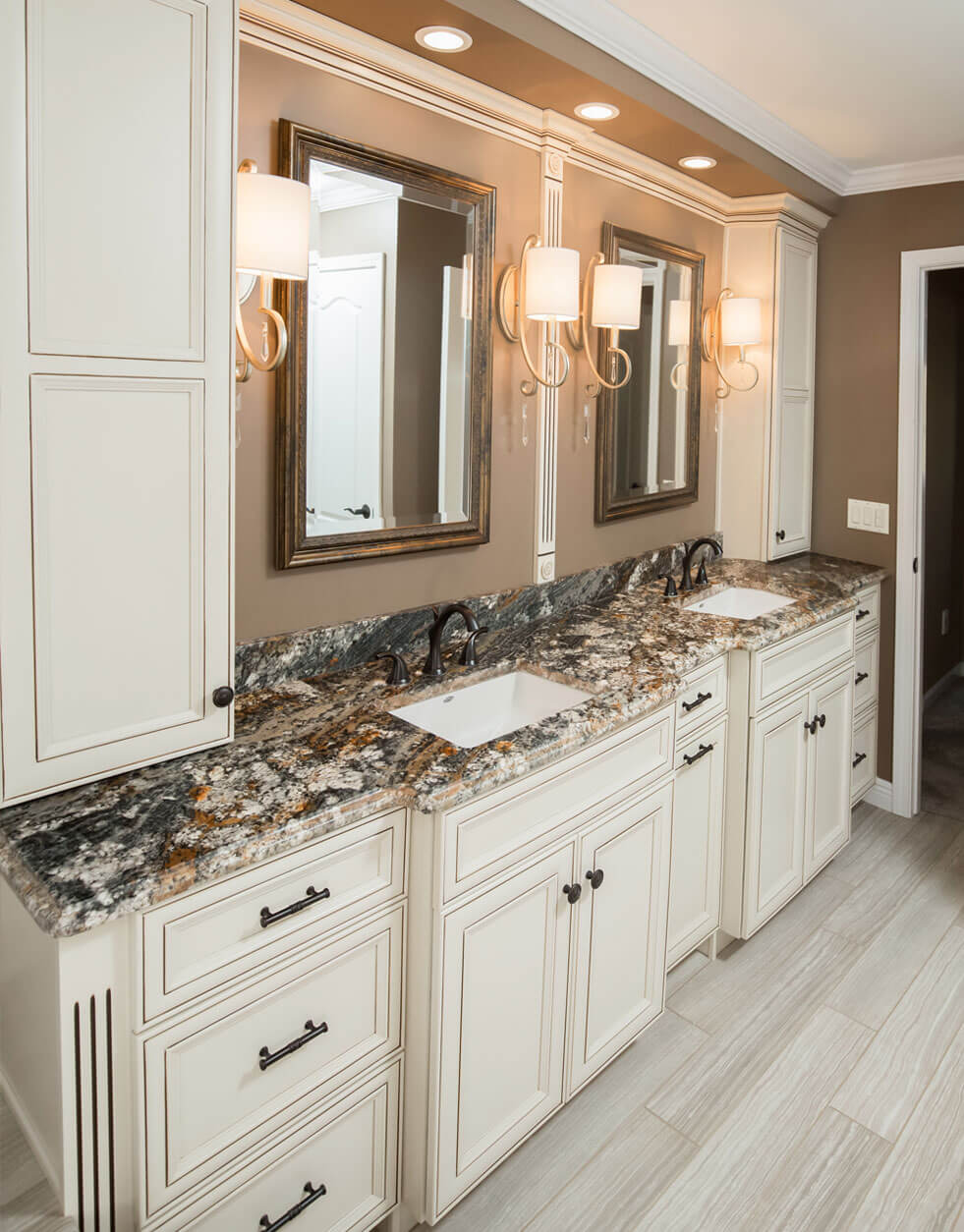 New Showroom for Customer Convenience
In the spring of 2017, we opened our Kitchen & Bath Showroom on Ann Arbor Road where customers can browse displays, see color samples and door styles, and have their questions answered by our knowledgeable, experienced staff. The showroom hours are listed in the page footer, and we're happy to schedule other evenings by appointment.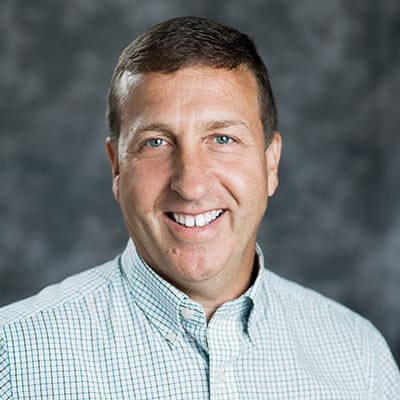 Michael Jenkins
Owner
With more than 25 years in the industry, owner Michael Jenkins has gained valuable experience and developed keen insight on kitchen and bath design, with an eye toward functionality. Mike's role is working one-on-one with retail and builder clients on large custom projects.
What sets Mike apart? Attention to detail, honesty and integrity.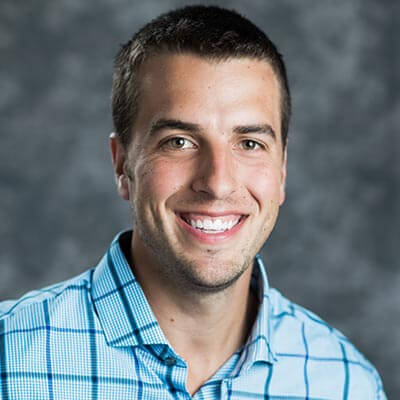 Matt Jenkins
Sales & Operations Manager
Matt Jenkins (Mike's son) handles the majority of day-to-day operations and also works directly with homeowners and builder clients.
Get to know Matt: "I like getting to know the customer. I ask a lot of questions so I can fully understand their needs and recommend solutions. I also think communication and follow-up is an important part of the customer service we provide."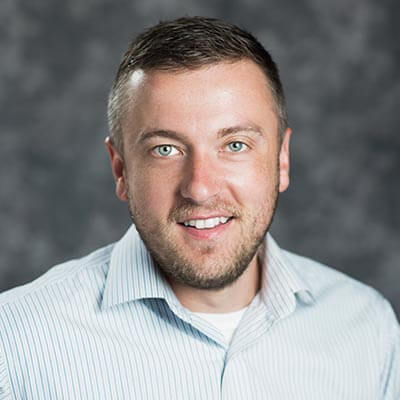 Charlie Fenton
Project Manager
We brought Charlie into the MJ Cabinet Designs family because we were impressed with his strong work ethic and his determination to get the job done right. Charlie works closely with our trades to schedule jobs and oversees their work. He visits every on-going project at least once a day to check in with the customer and contractors and ensure things are running smoothly.
What we like about Charlie (and you will too!): He's one of those rare people who's not afraid to get his hands dirty or to pitch in and lend a helping hand wherever and whenever a job needs doing. His ability to keep track of the details for a number of projects is awe-inspiring.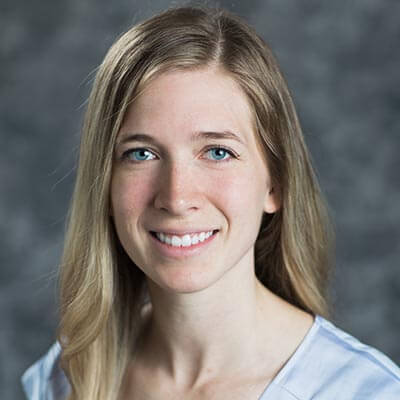 Megan Jenkins
Office Administrator, Kitchen & Bath Designer
"I love reading up on new products and design inspirations," says Megan Jenkins who joined our family when she married Matt and joined the MJ Cabinet Designs family as our Office Manager and Kitchen and Bath Designer. Megan handles many of the behind-the-scenes details – including estimates, product ordering and processes, that keep all our jobs running like clockwork.
What's Megan's favorite part of the job: Combining beautiful design features, functionality and thoughtful details to create living spaces that the whole family will love.
" MJ Cabinet Designs did a great job on our kitchen. They made the project tons of fun and took the time to answer all our questions along the way. We ended up with the kitchen of our dreams and loved the process. We will be moving soon and can't wait to work with this group again!"
– JACOB K.
Plymouth
" MJ Cabinet Designs did an absolutely amazing job with our kitchen remodel. We had new cabinets, beautiful backsplash and new countertops. They really helped us at every point along the way. I can't say enough about Matt J., his dad Mike and Michael the contractor. All were outstanding and we will be recommending them to all our family and friends."
– BARB O.
DEARBORN
" We recently made the decision to upgrade our first floor powder room. The options seemed overwhelming, but working with the team at MJ Cabinet Designs made the process so easy. Once we began work, the crews were amazing. Everyone who came into the house was very professional, courteous and businesslike. I love the finished product and look forward to working with Mike and the crew in the future."
– MIKE & JULIE F.
CANTON
" MJ Cabinet designs did an outstanding job on my kitchen. I had just moved into an older condo that was very dated. The simple kitchen remodel has transformed my entire living space! The white cabinets, new counter tops and floors brought the perfect update I was looking for! Thank you Matt for always keeping me well informed through out the whole process!"
– ANGELA H.
Plymouth
" After being unsatisfied with a few quotes from big box stores, I turned to MJ Cabinet Designs. I was very impressed with their process, from choosing cabinet options and layout that fit our goals to a follow-up visit after installation, the staff at MJ Cabinet Designs were true professionals. I plan to work with them for all future projects!"
– SEAN B.
SALINE
See Examples of Our Work
View photos of select projects from our more than a quarter century of creating custom kitchens and baths for people like you.
Browse Our Portfolio