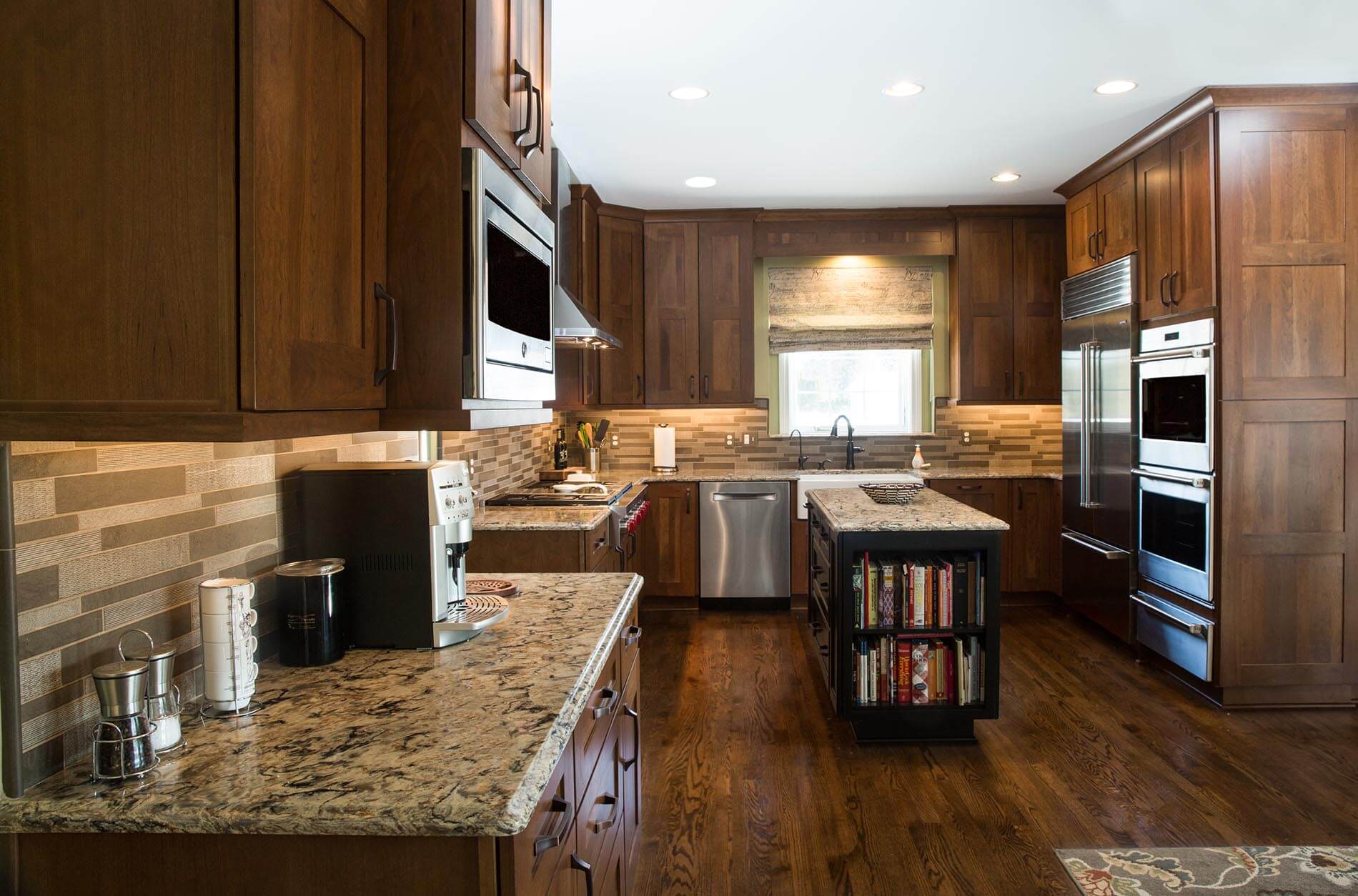 MJ Cabinet Designs, experts at kitchen and bath remodeling, knows that your kitchen is more then just a place to prepare a meal. It is the hub of your daily life, the heart of your home and it should fit your family's unique needs. Whether you are cooking for two or twenty, you want your kitchen to be stylish while having everything available at your fingertips.
Complete Kitchen & Bath Remodeling Services
Stop Dreaming, Start Planning!
With more than 25 years of experience in kitchen and bath remodeling, trust MJ Cabinet Designs to help you create your dream kitchen. Whether you imagine a budget-friendly family gathering place or a chef-inspired gourmet work space, we can help.
Free Kitchen Design Consultation
Call to schedule an appointment and a member of our design team will come to your home to review your kitchen design project. At our initial meeting, we'll suggest layout ideas to make the most of your space and discuss options for cabinetry materials, finishes, hardware and accessories.
We'll explain the differences in the semi-custom and custom cabinetry lines we offer and help you chose the best option for your home, your personal style and your budget.
Kitchen Design Ideas – Making the Right Choices
You've likely scoured Houzz and Pinterest and leafed through home and lifestyle magazines for kitchen design ideas, maybe deciding on white kitchen cabinets (or are considering gray, the current hot trend). Would you like a coffee bar? A built-in wine fridge? Display cabinets to show off your grandmother's dinnerware? So many decisions.
It's a smart choice to work with an experienced professional.
At MJ Cabinet Designs, we know the questions to ask to help you make decisions that you'll be happy with years down the road. We know our products – and can often present design ideas you haven't even thought of. We are experienced at helping our clients get the highest value, while working within their budgets.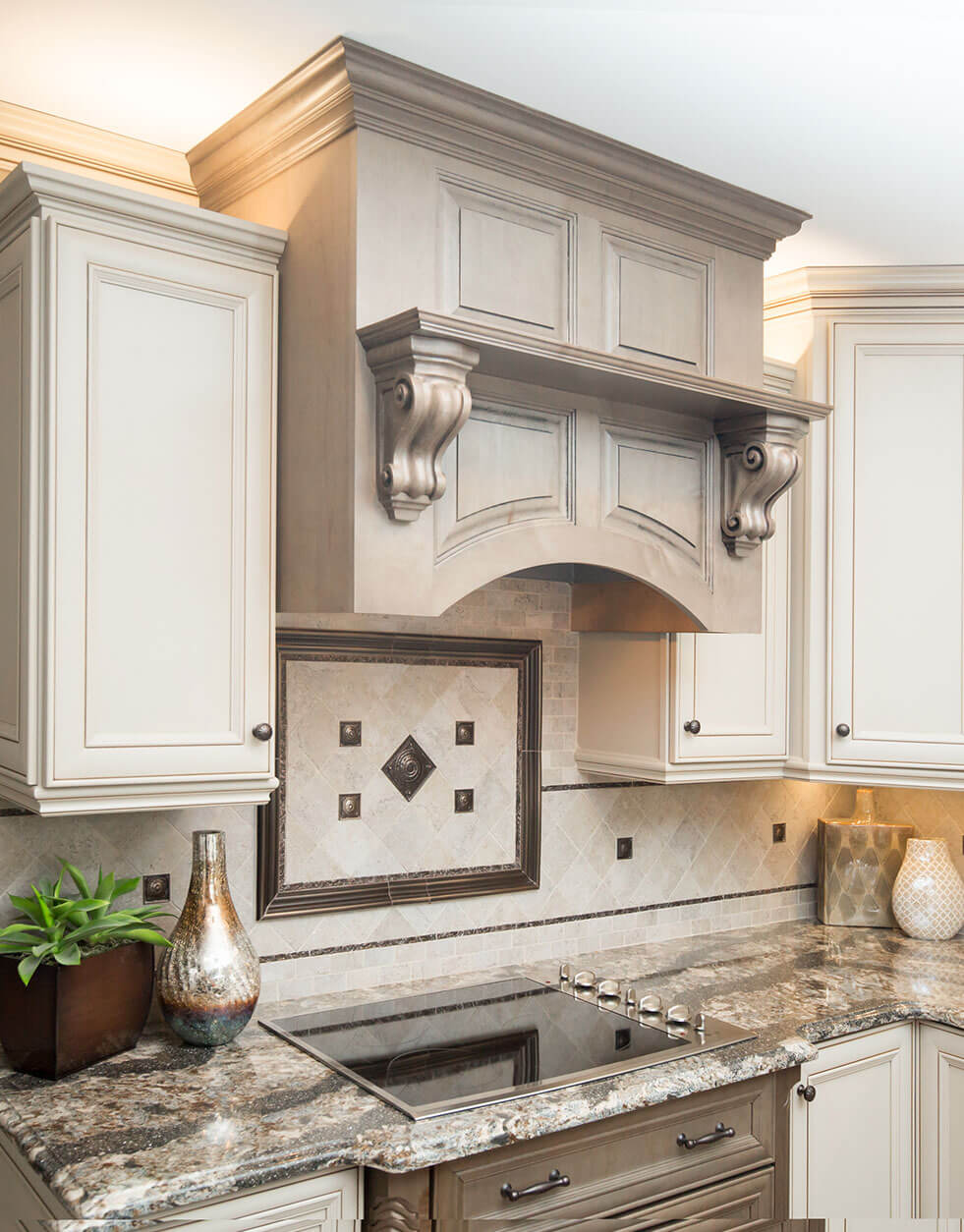 Visualize Your New Kitchen
The first step is to schedule an appointment for one of our Kitchen Design Specialists to come to your home. We'll listen to your ideas, get to know your personal style and review your list of "must-haves," "would-likes" and "splurge-worthy" functions and features.
We'll take measurements, then work up a plan. Next we'll provide you with 3-dimensional drawings of our proposed design, along with a detailed written proposal.
Kitchen and Bath Remodeling: Making It All Happen
Our Project Managers will coordinate your renovation project from start to finish. Years of experience have taught us how to make projects go smoothly – and how to quickly get over any 'bumps in the road' that may occasionally arise.
The installation of your new kitchen or bath will be scheduled to minimize disruption to your family's life. Each project is different, but you can expect your kitchen or bath remodeling project to take between 3 to 8 weeks, on average.
Our experienced crews will install your new cabinets, counter tops, tile, flooring, fixtures, lighting and hardware to ensure your complete satisfaction.
We Treat Your Home As If It Were Our Own
Always courteous, our team will take every care to treat your home with respect and maintain a clean and safe environment during the installation process.
Unlike many contractors, our crews take care to screen off other rooms to prevent construction dust from drifting. We take care to protect the flooring throughout your home. We clean up at the end of every work day, putting away tools and sweeping up debris. We respect your environment, promising no loud music and no coarse language.
When the job is complete, we'll follow up to answer any questions you may have and make sure you're thrilled with your new kitchen.
From creating detailed construction specifications, to product ordering, scheduling – right down to ensuring everything is a perfect fit, you can count on MJ Cabinet Designs to do things the right way.
Our Process
Schedule an Appointment
Set up a free consultation with one of our Kitchen/Bath Design Specialists in our Plymouth Showroom or at your home.
Measurements & Planning
We'll come out to measure your available space and discuss your goals and aspirations for your new kitchen or bath.
Design & Estimating
Working from our detailed notes and dimensions, we will design a layout and provide you with 3-dimensional drawings of your new kitchen or bath, along with an initial estimate.
Review & Revise
We will meet at our Plymouth showroom to go over the design. At this point we may need to make revisions to the design. It's not uncommon to go through multiple revisions – we will work with you until everything is just right.
Product Selection
Once the design is finalized and we have a signed agreement we will begin the selection process. During this 2- to 4-hour meeting we will try to nail down cabinetry options (manufacturer, line, door style, finishes), counter-top material, backsplash design, flooring, hardware, plumbing fixtures, lighting, and other details. Following the selection process we can provide a more detailed estimate.
Ordering & Scheduling
Once everything has been selected and the quote is approved we will order the products and schedule the appropriate trades for the job. Demolition work and installation of the new kitchen or bathroom usually takes 3 to 7 weeks, but timeframes can vary depending on the scope of the project.
Completion
Enjoy your new kitchen or bath!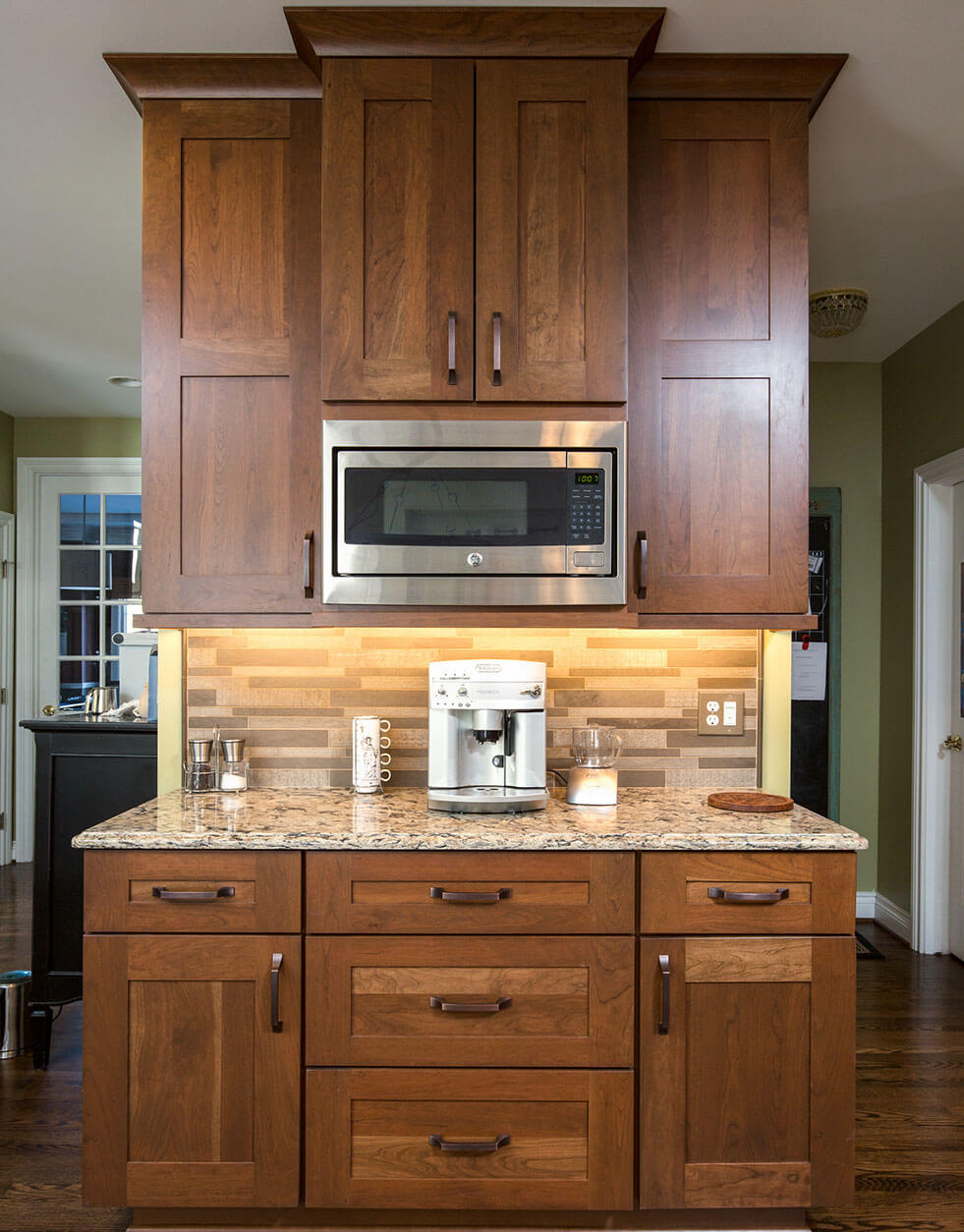 View examples of our kitchen & bath remodeling work.
Looking to Remodel Your Kitchen or Bath? We Do It All!
Design | Cabinets | Counter Tops | Backsplash/Tile | Flooring | Fixtures | Lighting | Hardware | Installation
When it comes to remodeling your kitchen or bath, trust the experts at MJ Cabinet Designs. We will work with you to create a space that is both functional and beautiful.
Schedule an Appointment